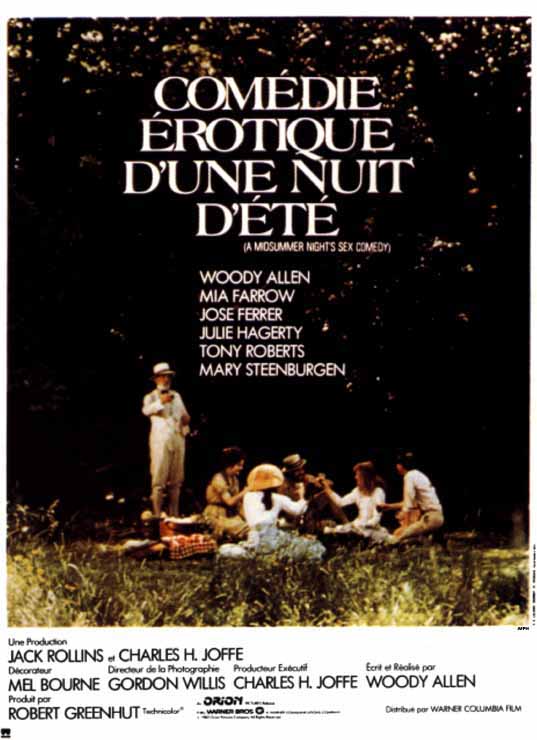 But it started off as serious, as a counterpoint to the comedy of Zelig , which was the next film to follow. The genesis was not a comedy but a kind of serious Chekhovian story, in the style of Interiors almost.
That serious a thing. Then I started to think, God, it sort of cries out for a comic treatment—a group of people at a summer house on a weekend and the silvery moon in concert with the animals and flowers. Why not take a comic approach to it?
Let the seriousness be a subtext. Allen famously hated the country, but wanted to find a way to make it appeal to him. Having made the urban jungle of Manhattan look so beautiful, he set his eyes on cinematic countryside. The script for Zelig was completed at this point, and producers were trying to organise the complicated shoot. It was in that waiting time that Allen wrote the entire script. It just came out in six days - everything in perfect shape.
I did it, and it was not well received. In particular, Smiles Of A Summer's Night, which shares a similar plot in its latter half - several couples mix partners in a day in the country. Along with Bergman, Allen took a nod from William Shakespeare. That story also features mystical, fantastic elements.
Only Mia Farrow and Allen crossed over into both films. Because this film was more weather dependent with all the outdoor scenes, Zelig was fit around this schedule. Both films eventually ran over time, and ultimately overlapped with Broadway Danny Rose With production stretching past summer, the crew actually had to paint the leaves green. At the time, Allen seemed to revel in the physical challenge, but would later decide it was too hard to think of two films at the same time.
Then, as you know, I had tried to overlap the shooting of the films and ran into some problems. The house was built by the production, and was fine for filming. It was later improved to make it livable.
The design of the house was picked by Allen out of a magazine. With Allen busy with two films, and his usual shy self, it was left to the cast to bond.
They lived together, and Mary Steenburgen brought her five month old child. For music, Allen went to a different source than his usual jazz. Felix Mendelssohn was German composer who made very pretty music. And like Manhattan , the music was one of the things that came early. Yet, he still hated the country, and drove home every night to sleep in his own bed in Manhattan [1]. I just wanted it to be a small intermezzo with a few laughs. I don't say this was any great picture at all, but in general this atmosphere is something that nobody cares about here in the United States.
For me it was fine. I had a great time doing it. I wanted to show it in all its beauty. I thought it was good when I wrote it, and I thought it was good when I made it.